Top 4 Most Luxurious Airports around the World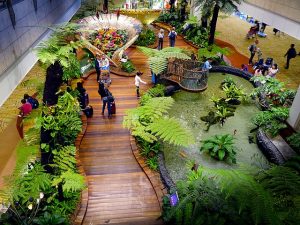 Whether you have a 1-hour delay or stuck already into a little, uncomfortable seat, flying can a very time consuming experience. However, there are airports throughout the world that can give you optimum comfort while you are waiting for your flight.
Top 1 – Singapore Changi Airport
Dubbed as the World's Best Airport, Singapore Changi Airport is also the biggest transport hub in all of Southeast Asia. In fact, approximately 58.7 million individuals passed through its terminals in 2016. This airport is not a place you'll lament spending time. In fact, you'll love to come back here as soon as you've visited.
This airport has countless swimming pools, a four-story slide for kids as well as sophisticated shops and restaurants.  Additionally, you can also enjoy their two round the clock cinemas, a fabulous butterfly garden, and even gaming consoles. On top of that, there are also cultural displays that include the frontages of Peranakan houses.
Top 2- Incheon International
Elegance and sophistication are obvious in South Korea because of Incheon International. This center includes the very first duty-free store of Louis Vuitton. And guess what? It is now considered the largest tax-free shopping haven in the whole world and accumulates over $2 billion every year. It doesn't just end there. You can also find lots of private sleeping rooms and let yourself experience their relaxing spa and sauna or even visit the Museum of Korean Culture.
After that, you may simply drop by at one of the seven peaceful gardens, play golf, or enjoy around their full-sized ice skating rink and casino.
Top 3 – Munich Airport
Known as the second biggest airport in Germany, Munich Airport has received a five-star rating from Skytrax. This hub boasts lots of technological and entertainment amenities such as AirbräuBiergarten, the famous largest beer garden in the whole world.
After savoring the taste of the local beer, why don't you try to roam around the Visitors Park? Here, you can freely play mini golf, experience a once-in-lifetime helicopter ride and more. However, if you don't want to do these things, just enter the building so you could get a nap in sleeping pods. Don't worry about parking either, as Park N' Fly can handle that for you.
Top 4 – Tokyo Haneda International Airport
Every year, more than 72.8 million of passengers come and go from this airport. What's great about this first-class airport is the fact it is situated few miles away from the Japanese capital. For quite some time, Tokyo Haneda International Airport has  proven its popularity as an entry port both for tourists and for business travelers.
Though Haneda is hailed as the 4th busiest airport all over the world, it doesn't fail to provide quality service efficiency, shopping, and cleanliness.
Conclusion
There you go—the top four most lavish airports that will leave you dazzled. Take note that they aren't just for show but they also bring unique entertainment and functionality you need after a tiring day of air travel. Try and experience them for yourself on your next trip.