How to Plan Your Family Vacation to New York
Visiting New York is a great experience for everyone, but the crowd can be too much for younger children. If you are planning to stay in or near downtown, you will have to plan your itinerary carefully, or you will end up with some unhappy, tired, and moody kids. Make sure that you can quickly get from A to B and have some breaks planned during the day, as children will  get bored with going through shopping centers or visiting multiple museums. To make your family trip to New York a success, find some of the tips that will help you with planning.
Get a Child Friendly Hotel
While there are great deals to be found on hotel price comparison sites, you will have to make sure that the accommodation is suitable for families. Some hotels will be focusing on people visiting New York for business, and they will not have family rooms or cots to accommodate your needs. You will have to contact the accommodation and read multiple reviews to make sure you will not look out of place when booking a room in a popular hotel. If the accommodation offers childcare and swimming pools, you are likely to enjoy your stay.
Book Your Transfer On Time
Getting to New York from the airport can be a nightmare, even for the most experienced drivers. Don't attempt to make the trip on your own. Book your private transfer or bus/metro tickets on time, so you don't have to wait around or spend the next few hours stuck in traffic. Depending on how and when you arrive, you might be better off using public transport, but kids might disagree, especially if you have plenty of luggage to carry around.
Avoid Driving
Image via Pixabay
Nobody drives into New York City any more. If you want to see more than the bumper of the car in front, you might want to try an alternative way of traveling around. New York has a great public transport and taxi system,  so you should not walk too much, especially if you have little people with tiny legs. Choose your location carefully, and make sure you can get to the main attractions in under an hour, or you will spend most of your time traveling.
Get Your Visitor Cards On Time
To take advantage of some of the great offers NYC offers and see NYC's top rated attractions on a budget, you will need to order your visitor card to be picked up at your hotel or at the airport. You will get discounts on different tickets, eating out, and even public transport. You can order your New York Sightseeing Card that will give you access to the One World Observatory, as well as bus tours. Given the size of the city, you might want to explore it from the top of the bus before you head out there with a map.
Plan Your Days
While New York is a great tourist destination and you will never run out of things to do, it is easy to get lost. To avoid stress and tears, you should plan every day carefully, and find a place to rest and relax for an hour or so every so often. The good news is that there are great parks and outdoor spaces you can enjoy for free with kids. Be sure to pay Central Park a visit and take a picnic with you, so your kids can run around, have a drink and some food before you head out in the crowd again.
Make Use of the Subway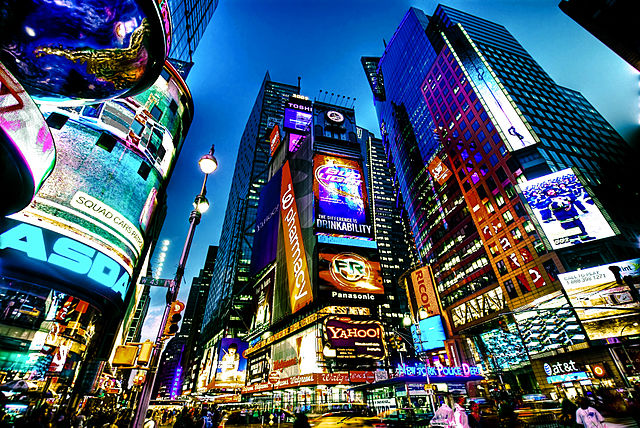 Image via Wikimedia Commons
The subway system of New York is great for locals and tourists. If you get your family pass for the duration of your trip, you can save a lot of time and money. It is recommended that you save the map of the area you want to visit, though, as it is pretty hard to navigate among the huge buildings and skyscrapers. You can get to the other end of New York in under an hour any time, so why not take advantage of the convenient way of traveling? Choose a hotel that is close to one of the subway stations, so you find your way back home, even if you get lost in the city.
Hunt for Discounts
You don't want to pay more for your tickets and attractions than you really need to. It is recommended that you get a New York City Pass that gives you great discounts and free entry to some of the attractions. You will get a ticket book and tear one out once you are there, so you don't have to queue up to buy it, either. To see a show on the Broadway, you will also find some reduced price tickets in the TKTS booths in the city. You can get a discount on your visit to the Empire State Building and skip the queues if you book your tickets online and print them off or present them on your mobile phone.
Go for Free Breakfast
Eating out in New York is not cheap, unless you venture into the suburbs and outskirts. The last thing you want to do every morning is hunting for a place to have breakfast with moody and hungry kids. To make your life easier and your vacation more enjoyable, you should book a hotel that offers free breakfast. This way, you can head out to the city with your and your kids' tummy full, so you don't have to waste precious time walking for hours trying to find a suitable place.
Whether you would like to see some of the landmark buildings of New York or simply explore the different activities and museums this great city has to offer, you will have to take into consideration your kids' needs and your budget. They are more likely to get tired of walking and sightseeing, so you will have to plan a visit to a park or a play center every day to keep them happy.