A day with horses.
We are 2 budget travelers from Taiwan decided to travel around Baltic states. Currently we are in Latvia and yesterday Heather announced that she wants to try to ride a horse. Well, we both love the horses. So – I say – lets check what is in the offer here. We googled and found 1 nice web page of the horse riding stables in Latvia, called Adventure Ride. Seems like they offer horseback trail rides in Latvia. That would be awesome! And seems like we can get there by bus. So – I sent an e-mail to them saying that tomorrow we come to ride horses. So – lets see…
We checked the e-mail next morning and we see that no reply is there.Nevertheless we still want to go there because we don't have much time devoted for this trip. There must be a chance. We checked the bus schedule in online and the point of departure.
So – to the bus stop we go in early morning. As there is no notice board of coming stops, we asked the driver to let us out near stables.
When we got out of the bus we checked with navigation that we are… 8 km away from the stables. Driver must have forgotten to tell us or something like that. So we walk back – towards the village with the horse riding stables and we see bus coming this direction – we got back in and this time we ticked with fingers into the map for the driver – so he lets us out. And we made it! Okay, first adventures passed.
We approached the stables and see that we found it – there is like a small building, like cafe with announcement about wi-fi and coffee. We walk in and from aside 2 women are coming. 1 of them is greeting us and asks if we have booked the riding with them. Apparently my e-mail has gone lost somewhere in cables because they didn't receive it. She says that we can have a horse riding lesson next day which is not okay for us, then she offers that we could ride later today because at the moment there is no one to take us on the horseback. Okay, no problem – I asked if there is some walking path to spend our time until we can ride? She explained where we can go and what we can see and enjoy. Okay.
But then she said that they are going now to the horse riding competition site and she… offered us to join. That sounds absolutely awesome. Without a moment of hesitation we agreed to go.
On the way there we told our story of getting there about what she wasn't surprised. She has told the bus company to let people out near stables, but who knows – new drivers or information hasn't got to the driver and these local buses (not like the bigger ones connecting cities), don't have notice boards of bus stops.
As they drove across the country side through nice landscapes, she told us lots about horses, their psychology, characters and about stables. We got to know that their horses are participating in the show jumping competition – so they are going there to watch the show jumping.
We found out that for 1 hour wouldn't be good to go horse riding in the forest and that in trail we can participate only if we can ride comfortably in both – trot and canter. Unfortunately we can't and I tell our story to her that in Taiwan riding is not very nice. Firstly – the horses are not well taken care of – poor looking horses. Here I saw that horses are well eaten and good looking. And in Taiwan it costs a bigger money for a shorter lesson than here. And the riding happens in circles, on lead by a person.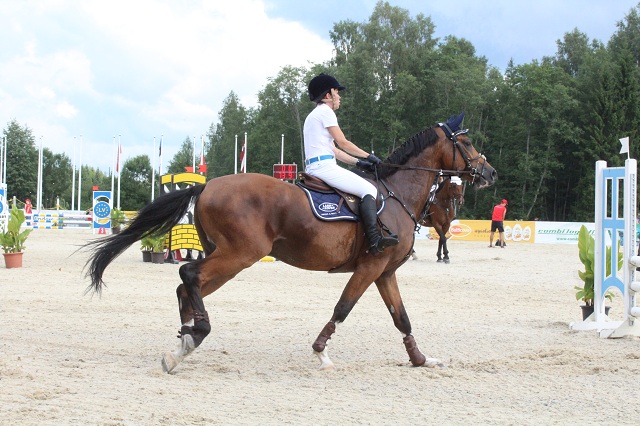 The girl named Agnes is a traveler – she knew the capital of Taiwan and she has been traveling in Asia before and other places. She suggested us to hitch-hike to make it cheaper and to get more views on traveling. She is cool girl who couchsurf's as well. It was awesome that she offered us to go with them.
We got to the competition site and we had a task – always to remember where the car is, to not to lose her out of the sight and to be around so we can get back together with her. She took care of us whenever she had to go somewhere to check. This is a big competition site with participants of many countries. 1 of their own horses participates and 1 other private horse from their stables. It was awesome to have a chance to watch it.
We stayed only until their horses finished the course. Then all the way back. That was a great experience.
The weather was funny – it was sunny, but when we drove out of competition site we saw that rain has been fallen. On the way we heard a loud, very loud thunder and it started raining. Agnes calmed us down that they have an indoor riding arena – manege as they call it where we can ride being dry and comfortable. Phew, that was relief.
And ta-da – we were preparing to ride. We had to sign the agreement before and then we had a chance to prepare the horses. That was amazing. We cleaned them by ourselves. But she saddled them up. Then we brought our horses by ourselves into the riding arena and got up.
We had to lead the horses by ourselves. I got a large horse named Alfred who is half English breed. Heather got smaller in size draft horse named Monte Kristo. We were taught basics about riding – how to hold the rains, the posture, the knees, the heels and feet altogether. And off course – how to steer the horse, how to stop the horse, how to make it go, how to turn and so on.
She gave as few exercises on the horseback to practice steering and sitting correctly, and leading the horse overall. In the end we managed to trot on our horses – on a long lead – she held the horse on a long rope. I didn't manage to do the raised trot so well, but Heather did great.
I am so glad we managed to arrive at stables on time – just before they were gone to competition site and that day turned out so spontaneous and for the welcoming attitude and nice riding. And also grateful to Agnes for bringing us by car to Ādaži to catch a bus sooner. I wish to come back again if I am around Baltic's again. Thanks for reading.
If you fancy riding a horse I really suggest www.adventureride.eu
Clare from Taiwan traveling with Heather.