10 UK Water Parks the Kids Will Love This Summer
Everyone loves a good water park, and the UK has some fantastic venues to visit. Whether it's with family or friends, a visit to a water park is guaranteed to mean a great day out and usually has extra benefits to enjoy such as refreshments, shopping and other leisure facilities so you can make a day of it. Even better, you don't need good weather to enjoy a day out on the flumes and in the wave machine thanks to some of the indoor parks, which is a good thing knowing how 'diverse' the British summertime weather can be.
Here's a round-up of 10 of the Zoggs team's favourite destinations.
Alton Towers, Staffordshire
This is a lovely lagoon-style water park with a tropical theme and plenty of palm trees. Those who want to feel the adrenaline will experience it on the high-speed rides, and those who want to relax can do so on the Lazy River, pool-side deckchairs or in the warm pool areas. Don't forget to enjoy a cool drink or two to create a wonderful holiday experience indoors.
Visit: altontowers.com
Sandcastle Waterpark in Blackpool
This is the biggest indoor water park in Britain, and it's a fantastic attraction. You and the kids can go absolutely wild in the flumes, wave machines, lazy rivers, whirlpools and Jacuzzis at this balmy indoor pool, which boasts a lovely tropical heat of 28 degrees. Even better, if you love adrenaline, then you'll be able to try out the world's longest water-based roller coaster – be prepared to feel your heart rate going as you swerve and swoosh at speed!
Visit: sandcastle-waterpark.co.uk
Pembrokeshire's Blue Lagoon
This is a great indoor attraction and offers hot tubs – both indoors and outdoors – alongside the usual array of fantastic slides, waves and rides. It's great for children of all ages, and there are plenty of outlets selling food and drink too, so you can stay for the day.
Visit: bluelagoonwales.com
Splashdown in Poole
The famous ride of The Screamer says it all. This water park is particularly popular with thrill-seekers who can handle the incredible vertical drop of the most famous ride. There are other more leisurely options too, with attractions both inside and outdoors depending on the weather and your tolerance to the elements.
Visit: poole.splashdownwaterparks.co.uk/
Waterworld in Stoke on Trent
This is a real family destination with a huge range of water-themed attractions, including the Python and The Black Hole. The owners opened a new wing in May, so there's even more to enjoy now than ever.
Visit: waterworld.co.uk
Paignton Splashdown Quaywest
This is the sister park of the original Splashdown in Poole, and it's even bigger than the first one. Try the Wild Kamikaze or the Devil's Drop if you feel brave enough. As an added bonus, this water park is close to the beach and offers fantastic views too.
Visit: quaywest.splashdownwaterparks.co.uk/
The Guildford Spectrum
This particular attraction is so popular that it needs booking beforehand to guarantee that you'll get in. Demand for the attractions and pools is very high, and there is even an ice rink to visit, along with other sports facilities. It's worth getting down there early to get the most out of the venue?
Visit: guildfordspectrum.co.uk
Center Parcs – Various
If you fancy a weekend away, then Center Parcs offer fantastic water parks with tropical themes, flumes and rides for all ages, and poolside attractions such as drinks, loungers and more.
Visit: centerparcs.co.uk
LC Swansea
This is an entire leisure centre which also has a range of sports facilities alongside the spa and pool, so you can have fun in and out of the water, with various options close by for lunch and refreshments too. Again, it's worth heading down for the full day.
Visit: thelcswansea.com
Wet & Wild in North Tyneside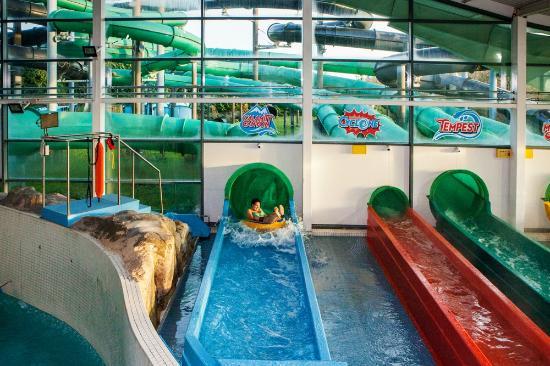 Finishing with the UK's biggest waterpark, this place is packed with fun It has more than enough to keep even the most demanding of kids entertained and impressed for the day.
Visit: wetnwild.co.uk
Hopefully, these destinations have provided you with plenty of inspiration for a water-themed day out for all the family. Remember to get fully kitted out before you head down to the water park. You can find everything you need, including boys' and girls swimwear, at Zoggs' online store.