The Camping Essentials You Didn't Know You Needed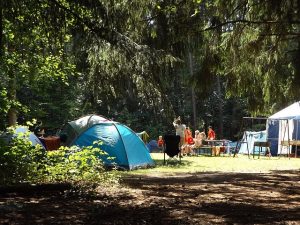 When it comes to camping, most of us head out on our first trip armed only with a tent and a sleeping bag, only to find that we're used to our home comforts and luxuries and it can be very difficult to live without them. This is especially true if you have a young family. Fortunately, there are many things you can pack to make your camping trip easy and fun without ruining what camping is really about; reconnecting with your family or friends and getting some time away from life's everyday stresses. Here's a look at some of the best camping essentials you may not have considered.
A Lightweight Trailer
Many modern cars aren't equipped to pull a campervan or even trailer and attempting to pull a load heavier than your car can manage can be dangerous. So, most of us rule it out and instead attempt to fit everything into the car. Lightweight campers offer a fantastic alternative. Lightweight campers and trailers come in a large range of varieties. So, whether you're after somewhere a bit more comfortable to sleep or just a trailer for storage you'll find something to suit.
A Fire Lighting Kit
Unless you were a scout, fire lighting probably isn't one of your strengths and it's a lot harder than it looks. Instead of spending hours sat in the cold rubbing twigs together, invest in a handy fire lighting kit which can be bought at most grocery stores.
First Aid Kit
A first aid kit is an essential for all camping trips. Make sure it's well stocked with all the basics before you travel. This should include:
Band-Aids
Bandages
Burns kits
Anti-bacterial wipes
Anti-histamines
Insect repellent
Medication
Painkillers
Woolens
Woolen clothes, socks and blankets make a great addition to any camping trip. Wool is incredibly warm and can easily make your tent more cozy and homely.
Bluetooth Speakers
Most of us have got a smartphone and tablet nowadays so Bluetooth speakers are a fantastic way to add some entertainment to your trip. This can be especially useful if you are staying somewhere away from any kind of nightlight. Portable lightweight speakers easily sync with your devices so you can listen to music or watch films wherever you are.
The Coolest
You've probably already got a useful cooler. But, you need The Coolest. Packed with hidden spaces and features The Coolest isn't just a cooler, there's a chopping board, storage section for plates, a bottle opener and more. It also comes in a cool retro design.
Games
If you are aiming to take a break from technology and devices you're going to need to pack some board games and a deck of cards. We often forget how much fun these simple games can be. Why not buy some of your old favorites off eBay and get stuck into some fun family contests?
Camping is great fun, a wonderful way to reconnect with your family and friends and a cheap way to see the country. Being prepared can make your trip easier, more comfortable and keep you all safe. A great idea is to invest in a lightweight trailer and keep it stocked with all your camping essentials so you are ready to hit the road whenever the mood takes you.