Preparing For Your Cruise
Photo by Peter Hansen on Unsplash
Does the never-ending winter weather have you planning your summer vacations already? You're not alone. Now is a great time to find your perfect summer cruise. If you've booked your cruise and you're wondering, "Now what?", then here are a few suggestions to get you started off on the right foot.
Planning
 Meals – You'll want to look into the meal options on your particular cruise. Most cruises offer dinner in their main dining room, but they like you to reserve a time that you'll likely eat dinner so they can be ready for you.
 Excursions – Don't wait until you come into port to pick an excursion. The very best ones often sell out and it can be a bummer getting off the ship just to realize you don't have anything to do. Book at least one or two excursions at different ports before you ever set foot on your cruise.
Packing
 Snacks – When people talk about cruises they often mention the food. They joke about gaining weight because they were eating so many delicious things the entire trip. What they fail to mention is that food doesn't start getting served until the ship has left port. So if you check-in in the morning and the ship gets held up and doesn't leave until late in the afternoon, you are going to be one hangry passenger if you don't bring along a few snacks.
 Essentials – Make a list of essentials so you can check them off as you pack them. This is going to be dental hygiene items, hair products, undergarments, medicine (if you suffer from motion sickness then you'll want to bring something along to help with that), sunscreen, and aloe vera. If you think you won't burn, you are probably wrong. Bring some aloe vera just in case so you don't have a miserable time at sea.
Clothes
 Pack Light – Only bring what you need. If you're cruising somewhere warm and sunny you'll probably be in beach clothes most of the time. Your cabin will most likely be small because you'll be spending most of your time on deck. You don't want clothes cluttering up your room because you decided to bring your entire closet.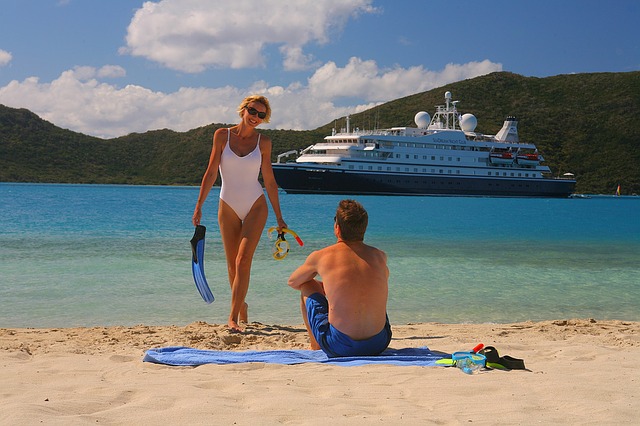 Dress Up – You will want one or two nice outfits for eating dinner in the dining room. This can be a nice tux or dress, but Sunday best is just fine. Just don't wear board shorts and flip flops in to eat escargot.
Cash
 On Board – You may need a little cash while on board your cruise. You'll want to look and see what on the cruise is included in your base price. Usually, there are certain restaurants and shows that cost extra. Just be aware that not everything will come with your cruise ticket. If you're worried about bringing cash on board with you there should be a safe in your room to store any valuables you have on the cruise.
 At Port – When you make port you'll want to bring a little cash with you just in case. This will be for souvenirs or emergencies.
The most important thing is that you remember to have fun and be safe on your cruise. It would be such a bummer if you burnt yourself to a crisp or broke something by being careless on the first day and couldn't enjoy your trip. Also, when you get off at port remember that you need to respect the people and places that you are visiting. Have fun and enjoy!