How to Make Your RV Comfortable During Long Road Trips
For those who love the outdoors and extended stays, traveling the country by RV is the best way to go. There's the chance to see beautiful landscapes, meet like-minded travelers, connect with nature, and customize a vacation that works for you and your budget. When planning a long-distance road trip or setting up camp for several weeks, however, making your home on wheels accommodating is advised. Spending long periods of time in the same space can create discomfort and frustration and ruin your trip, unless, of course, you prepare.
Have it Serviced
Comfort can quickly be ruined if you're on the road and the RV suddenly stops working. The first bit of advice before your next road trip would be to have your recreational vehicle serviced. Inform the technician that you plan on traveling long distances so they can do a thorough check of the vehicle to ensure your comfort and safety.
Clean It
You don't like coming home from vacation to a messy house so why would you want to take one on the road? Before your next excursion do some spring cleaning and try to maximize the space you have. Get rid of anything that's unnecessary and give the entire camper a good wipe down.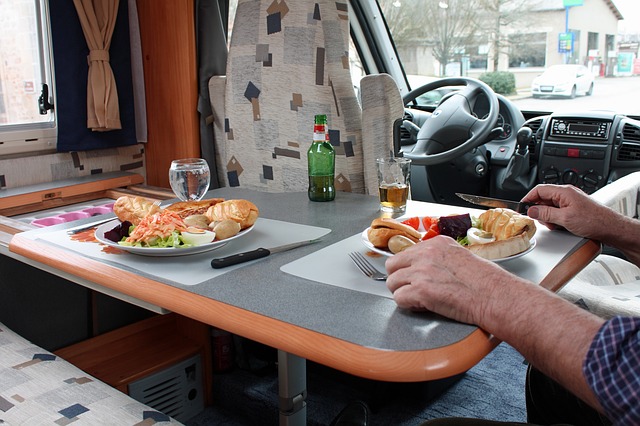 Update Furniture
If the furniture in your RV is worn down or uncomfortable you can change that without spending too much. For instance, reupholstering the furniture and adding a few extra cushions can make sitting for hours a lot more relaxing.
Add Personal Touches
Your personal style and decor are what make your house feel like a home. Don't be afraid to let your creative juices flow with your RV. You can do everything from paint the walls and hang pictures to installing area rugs and putting up window treatments.
A Little Privacy
Crowded campsites are great for mingling and meeting other travelers, but when you want a little privacy in the RV, it can be hard to come by. A great way to make it feel more like home and get a bit of privacy when you need it would be to invest in day night shades. They are decorative window coverings that can be pulled up or down to provide you with privacy and shade in your camper.
Dishes and Cookware
Whether you plan on cooking in the kitchen or living the full outdoor experience of cooking at the campsite, there's something about having your own cookware and dishes that can make you feel more at home.
Comfy Bed
Though most RVs come with some form of sleeping pad they aren't always the most comfortable. There's nothing like a bad back or poor sleep to ruin your vacation. So, invest in a mattress for your camper. Throw some comfortable sheets, blankets, and pillows on there and you'll have no trouble sleeping like a baby no matter where you are.
Entertainment
What's a road trip without some form of entertainment? While you're on the road and during downtime on your camping trip, having things to do in your RV can make every moment fun. Entertainment might include a television, video gaming system, board games, books, or movies. Just be sure that you've included activities that will keep everyone (including hard to impress teens and easily distracted toddlers) entertained.
RVs are meant to be your home away from home. It is a convenient means of transportation packed with all the conveniences you'd get from your house. To enjoy such perks during long road trips and extended stays, it is imperative that you take the time to design a camper that looks, feels, and functions like your very own residence.