Five Ideas For Working Trips
If the cost of traveling is putting you off taking a trip, why not combine you break with a way to earn money? Working holidays are becoming more and more popular. Read our suggestions below to help you find a working holiday that will be both fun and financially viable.
Buddhist Retreat
First of all, a wonderful way to travel the world and work on your meditation skills is to attend a Buddhist retreat. Offered all over the world from America to Thailand, Buddhist retreats are often be conducted in silence. It will encompass time to meditate as well as chipping in with the daily chores that need doing. Expect early morning and early night and lots of time for mindfulness practice. Formal retreats are often charged on a sliding scale, depending on your financial situation. A visit to stay at a monastery can be free, in return for working alongside the monks on the grounds.
Eco housing
Another great way to get some free food and accommodation is to go Europe and help people build their eco dream houses. For all the food and beer you can consume and a place to bed down for the night, you'll be asked to muck in will all sorts of jobs. Anything from digging holes, to mottle and daubing the walls could be on offer.  It's a great option if you relax best when you are doing something. It's also perfect for this o interested in the eco-housing movement, as you get to see what it's like to build and live in such a structure in real life.
Skiing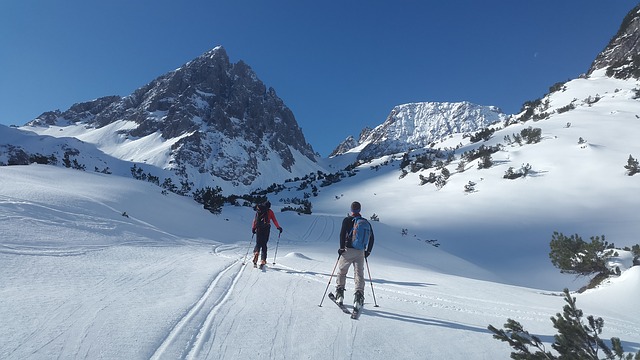 Picture source
Skiing is another option for this that want to get away without breaking the bank. Once you have paid for your flights, there is not too much else to worry about. Take a post as a chalet helper in Europe and cook and clean for families on holiday for you food and board. Or become a ski instructor in Canada by completing one of the many whistler ski instructor courses on offer. The good thing about being an instructor is that you will get discounted equipment hire, lift passes and a pretty good rate of pay.
Charity trips
Another way of seeing the world without breaking the bank is to take part in a charity tour. The are a range of trips on offer all over the globe. The best thing is that you are not just a tourist, but get to give back to the place you are visiting. Choose from building schools in Africa or, wildlife preservation in Asia. If you have medical experience, contact Medicine San Frontier to assist in a crisis zone.
TEFL- Teaching English As A Second Language
Lastly, if you are looking for a longer trip, why not get qualified in TEFL before you go? The TEFL program runs courses that get you an internationally recognized qualification. TEFL help you to organize your accommodation and take the cost of it out of your working pay. You can get TEFL positions from 2 weeks to 6 months and more, and the demand for teachers in like China, Africa, and Asia is high.